How 'naeckt' are we?
'Naeckt' means 'naked', but are we "exposing" ourselves? No, at least not literally. We are actually "naked" in the sense of purity and honesty. Our beers are well balanced as we are using pure and natural ingredients; modest and yet refined. The secret is our passion and love in the craft and ultimately the ratio and balance of the ingredients, where less is more. On top of that, also our dedication and patience, on how each type of beer is brewed.
We use no additives. We brew our beers only with water, barely malt, wheat malt, rye malt, oats, hops (candy) sugar and yeast. All our beers are unfiltered and not pasturized to keep maximum tast, top fermented with a secondary fermentation in bottles or kegs. Store our bottles upright and drink at a temperture of aproximately 10 degrees Celsius.
Enjoy to the upmost, but drink in moderation ...
Who are the naeckte brouwers?
Naeckte Brouwers is funded by Michel Lagrand and Jan Albert (Ab) van der Veen. They brewed many years together as a hobby and started in 2010 to sell their beers as Naeckte Brouwers.
Sometimes a hobby gets out of control and this happened when they opened their first brewery at the industrial area Bovenkerk in Amstelveen. In 2018 they opened a second brewery in the former Annachurch in Amstelveen where they also have their taproom.
Michel and Ab are friends who share their interests and passion, and also are true Burgundians who put enjoying at the first place. Together they complement and keep each other in balance in producing high quality handcrafted beers.
© Copyright 2012-2018 de naeckte brouwers Amstelveen Netherlands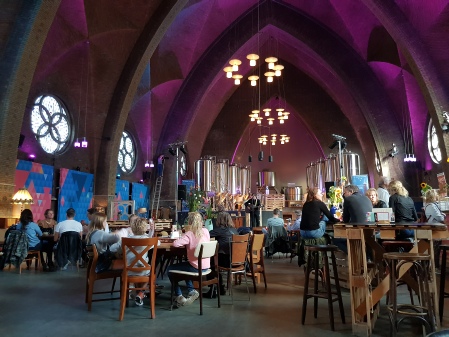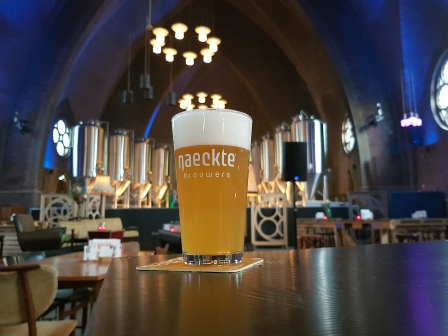 Our new brewery is open!
On October 3th we opened our new brewery and tasting room ANNA in the former Annachurch at Amsterdamseweg 22 in Amstelveen. Here you can taste our regular beers and some beers brewed exclusively for the tasting room. Besides simple bites to accompany our beers we also serve lunch and diner. From the taproom you have a beautifull view at our brewery and fermentation tanks.
As ANNA is also a cultural centre there is plenty of room for creative and entertaining initiatives such as the pop stage, theater, art exhibitions, talk show, standup comedy, bookpresentations, workshops, etc.
On the website of ANNA or the Facebook page you can find more information about our agenda, adjusted opening times and events.
ANNA is open on Thursday, Friday and Saturday from 11:00 till 23:00 and Sunday from 11:00 till 20:00 hour.